Hydrate
The new Hydrate© treatment from Lawn3 has been introduced because of the long, hot and dry seasons which have become much more prevalent in the UK. A dry Spring or Summer can seriously affect your lawn, removing essential moisture from the grass and lowering the effective water table. The result can be seen everywhere – with drought affected lawns with yellow and brown patches commonplace in domestic gardens.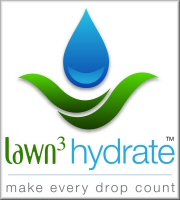 Although the effects of drought are usually temporary, with lawns returning to growth when the rains appear in the Autumn, the result can be a tired and exhausted looking lawn all summer, which then becomes prone to weeds and moss in the Autumn and over Winter.
Lawn3 Hydrate© helps to combat water loss during periods of drought, by making the most of what water there is in the ground. Under normal conditions when water becomes scarce, the water in the soil will tend to congregate in areas where it can physically exist more freely. Those areas within the soil that have built up water repellent deposits will become dryer, resulting in the grass above dying off (known as 'dry patch'). Lawn3 Hydrate© breaks down these water repellent deposits, allowing the water to distribute more evenly within the soil which results in less dry patch.
We believe Lawn3 Hydrate© significantly reduces irrigation requirements, and can result in a 100% increase in water retention in natural soil after a single application.
Talk to your local Lawn3 office about Lawn3 Hydrate© - We suggest A bi-monthly schedule with one treatment in March and one in April in time for the summer.
Where to find us
and Book Your

Free

Lawn assessment